June 16: Truth in Jazz Big Band
Tuesday, June 16, the Truth in Jazz Orchestra will perform, 16 of the area's top musicians playing charts from the classic era of big bands and from today's hottest arrangers. Word is getting out, so arrive early to claim your chair!
Fronted by West Michigan's legendary drummer, Tim Fronceck, TIJO will perform from 7:30 to 9:30 p.m. Doors open at 6:00 p.m. so you can enjoy dinner from Fatty Lumpkin's Sandwich Shack and Drip Drop Drink. Plus, enjoy a fully stocked cash bar.
General admission is $5 at the door, and only $2 for students. This is an all-ages show, so bring your kids and grandkids so they can hear a real big band! Spread the word, hepcats are in the groove with this righteous combo. For updates and to talk up the show, visit the Facebook event here.
For a sample tune from the Truth in Jazz Orchestra wail, visit their website here.
---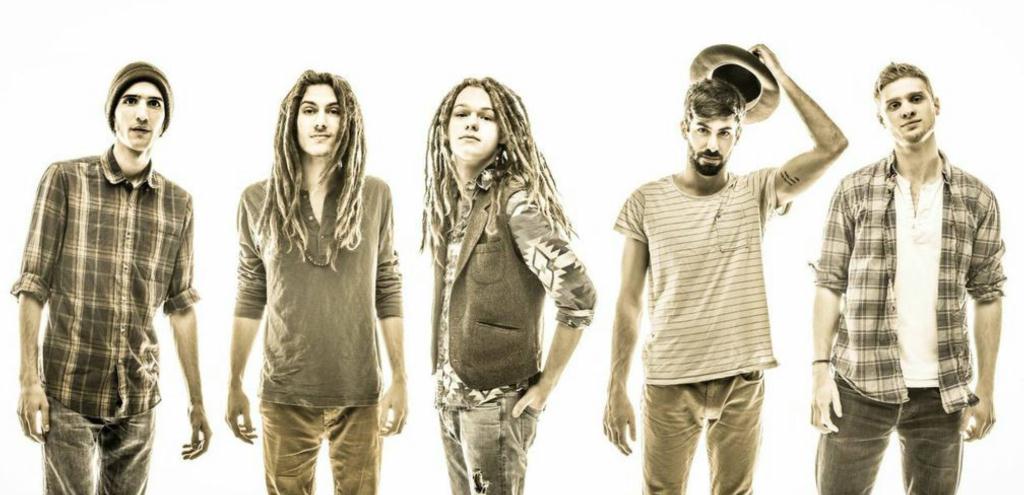 FREE SHOW* - ALL AGES - July 2, 2015

*we are pleased to partner with Kids Food Basket in Muskegon. (This is a free - all ages event - donations of any amount are greatly appreciated - not required - all donations will be given to Kids Food Basket Muskegon)

Watermark Live and Local Spins present:
The Way Down Wanderers at Watermark 920 for our Summer Concert Series on Thursday, July 2, 2015. Doors open at 6:00 p.m. and music starts at 7:30 p.m.

Watermark 920 continues to offer space for events and a stage for musical acts to perform in an intimate setting and we are really excited to partner with Local Spins on the series. The concert series is designed to expose the artists who put their experiences to music and share it from the stage.

Artists are not chosen based on genre, rather they are chosen because they exhibit rare potential. Each concert is unique and makes for a diverse series of shows.

Watermark 920 is a great venue to enjoy live music, beer/wine from the cash bar, and Fatty Lumpkins sandwiches. Our bar will feature local craft beer options as well as a variety of non-alcoholic choices too.

DATE:
Thursday, July 2, 2015

WHAT:
Watermark Live Summer Concert Series

WHERE:
Watermark 920 - 920 Washington Ave, Muskegon

SCHEDULE:
Doors open at 6pm - come in and grab a sandwich from Fatty's before the show! Or a drink from the bar - we will feature Michigan wine and beer for the evening, as well as a fully stocked bar.

Show starts at: 7:30pm
Featured act set: 8:00pm

TICKETS: All ages - General admission

ABOUT THE WAY DOWN WANDERERS:
Equal parts fast-paced and soulful, 5-piece modern-folk Americana act, The Way Down Wanderers, draw in listeners with energy, originality and soulful generosity. Playing, performing and writing together for just over a year, the Wanderers have built an enthusiastic and fast-growing following across the country, earning Deli Magazine's Readers Choice title of "Chicago's Best Emerging Artist, 2014." Youthful and professionally trained, these young men captivate audiences with soaring instrumentals, foot stomping sing-alongs and a lively stage show and have created a buzz for themselves with their unplugged, off-stage encores and propensity for performing self-titled, "restSTOMPS" - free acoustic sets at rest & truck stops along their tour routes. The band's debut EP, "Path to Follow" and their brand new live EP, "Wellspring" (to release on 5/20/15) are available wherever music is sold. The band's first full-length album is due to release in the Fall of 2015.

Austin Thompson - guitar, lead & harmony vocals as well as percussion in the studio. Austin studied music at the collegiate level where he grew as a musician. Austin finds much inspiration for his lyrics in the beauty of nature and his love for hiking. He adds his unique musical influences of rock, folk and the spoken word to the music he writes and performs.

Collin Krause - mandolin, fiddle, lead and harmony vocals. Collin became involved in music when he began taking classical violin at the age of 3. Growing up around traditional roots & bluegrass music had a big influence on him. Meeting his older half-brother, Ben (also in the band) for the first time at the age of 12 was a pretty cool moment for Collin, especially when he discovered that Ben, who grew up in an entirely different home, was also a folk music enthusiast and full-time musician. Collin enjoys writing, co-writing and arranging music for the band.

Benjamin Montalbano - Banjo, lead and harmony vocals. Ben, Collins half brother, is an award winning composer whose music seeks to reinvigorate the American music culture. In the spring of 2011, Montalbano was recognized as a finalist by the prestigious ASCAP Composers' Competition. Bens music education allows him to influence the bands music with his sense of form and composition.

John Merikoski- Drums, Percussion. John has been playing drums since age nine and is featured on dozens of recordings, ranging from Jazz and Metal to Hip-hop and Bluegrass. In 2012 he was awarded a full ride scholarship to study Jazz performance for drum set at the University of Illinois. He is currently finishing up his degree and performs frequently in a wide variety of musical projects.

John Williams - Upright bass. John is a former classical upright bass performance major who also enjoys singing, song-writing and entertaining a crowd. http://thewaydownwanderers.com/about

ABOUT LOCAL SPINS:
Keeping the spotlight on talented West Michigan bands: That's been a mission of mine while spending 13-plus years as a music critic and entertainment writer for the Grand Rapids Press. My "Local Spins" reviews and features -- as well as annual Local Spins of the Year awards -- have focused attention on a host of important and eclectic Grand Rapids area bands and artists, including Drew Nelson, Ralston Bowles, The Crane Wives, The Fuzzrites and more.

Now, at the Spins on Music website at www.localspins.com that continues with weekly features on different artists who appear on radio on my "Local Spins Live" segment at 10 a.m. Wednesdays on News Talk 1340 AM. And look for regular "Local Spins Live" concerts at area venues featuring some of these up-and-coming acts which deserve broader attention. I profile Local Spins artists at Spins on Music on Thursdays, with exclusive video performances on the site, and highlight my picks for weekly concert offerings in the Grand Rapids area. https://www.facebook.com/localspins/timeline

CHARITABLE PARTNER: We are pleased to work with Kids Food Basket, Muskegon. We feel the best way to have a healthy community is to support it and the kids who belong to it! Kids Food Basket helps kids right here in our community....to read more, please visit their website here:http://www.kidsfoodbasket.org/about-us/muskegon] during the evening we will have lunch sacks available for you to decorate and we will donate them back to Kids Food Basket. We will provide the lunch sacks and the crayons/markers you just supply your imagination!

DETAILS: There is plenty of seating, plenty of room to dance, and full service bar featuring Michigan beer and wine.. Join us in an intimate setting enjoying an evening of music.

FOOD: Fatty Lumpkins Sandwich Shack will be on hand serving up their famous sammies in their pop up restaurant. https://www.facebook.com/pages/Fatty-Lumpkins-Sandwich-Shack/165687220117308

ABOUT THE CONCERT SERIES:
The Concert series was created by the team behind Watermark Live and showcases musical acts touring the great state of Michigan. The evening is hosted by singer/songwriter Christopher Cordle. The Spring Concert series is designed to expose the artists who put their experiences of these peninsulas to music. Artists are not chosen based on genre, rather they are chosen because they exhibit rare potential. Each concert is unique and makes for a diverse series of shows.

ABOUT CHRISTOPHER CORDLE/SHOW HOST– Christopher Cordle - Born and raised in Muskegon, Christopher C. Cordle is a graphic artist, a fine artist, a musician and a producer as well as a luthier who trained under the tutelage of Robert Sayers. Chris is also an accomplished singer-songwriter with two WYCE Jammie nominated CD's. Chris has a degree in Graphic Design and specializes in illustration and branding. Chris is also responsible for the look and feel of our Watermark Live productions and creates the visuals as well as all of the branding for our shows. Chris has over 20 years of newspaper reproduction experience and was an original member in popular bands Yard Sale Underwear and original touring band Victoria Park in the early 1990s. Chris also worked under J.C. Howe with Muskegon Civic Theater to gain set painting experience. https://www.facebook.com/christopherccordle

ABOUT THE VENUE:
Watermark 920: Muskegon's newest and most innovative space for events is changing how we work and how we celebrate. This progressive urban address integrates productivity with creativity and is redefining event planning on the lakeshore. https://www.facebook.com/Watermark920]

ABOUT WATERMARK LIVE:
Watermark Live is the event and promotions arm of the Watermark Center headed up by a group of event professionals, artists and musicians from the Muskegon area; our group draws on a collaborative, not competitive attitude to bring you the most diverse events imaginable. Our events are intended to intrigue, excite, inform, and most importantly entertain. Whether you're attending one of our installments of our concert series, or dancing the night away at a Halloween extravaganza, or who knows what else we will come up with, you can bet you will have a great time.www.watermarkcenter.com/live
---

FREE SHOW* - ALL AGES - AUGUST 13, 2015

*we are pleased to partner with Kids Food Basket in Muskegon. (This is a free - all ages event - donations of any amount are greatly appreciated - not required - all donations will be given to Kids Food Basket Muskegon)

Watermark Live and Local Spins present Dean Fields at Watermark 920for our Summer Concert Series on Thursday, August 13th. Doors open at 6:00 p.m. and music starts at 7:30 p.m.

Watermark 920 continues to offer space for events and a stage for musical acts to perform in an intimate setting and we are really excited to partner with Local Spins on the series. The concert series is designed to expose the artists who put their experiences to music and share it from the stage.

Artists are not chosen based on genre, rather they are chosen because they exhibit rare potential. Each concert is unique and makes for a diverse series of shows.

Watermark 920 is a great venue to enjoy live music, beer/wine from the cash bar, and Fatty Lumpkins sandwiches. Our bar will feature local craft beer options as well as a variety of non-alcoholic choices too.

This is a free, all ages show with a reserved ticket in advance. Space for this show is limited - to be added to the will call list, simply email Sarah Sass at sarah@watermarkcenter.com

DATE:
Thursday, August 13, 2015

WHAT:
Watermark Live Summer Concert Series

WHERE:
Watermark 920 - 920 Washington Ave, Muskegon

SCHEDULE:
Doors open at 6pm - come in and grab a sandwich from Fatty's before the show! Or a drink from the bar - we will feature Michigan wine and beer for the evening, as well as a fully stocked bar.

Show starts at: 7:30pm
Featured act set: 8:30pm - 10pm

TICKETS: All ages - General admission

Artist:
Dean Fields has been performing for 10 years, entertained music lovers at over 1000 shows and has traveled over 200, 000 miles during is career in music. He currently resides in Nashville, Tennesee but has lived in Richmond, Miami and Boston.

The singer/songwriter has shared the stage over the years with music royalty such as, Willie Nelson, Emmylou Harris, Alison Krauss, Old Crow Medicine Show, KT Tunstall, Blues Traveler, Rosanne Cash, Eric Hutchinson, Colin Hay, Bob Schneider, Aqualung, Hootie and the Blowfish, John Hiatt, Cake, Bruce Hornsby, Rusted Root, Madeleine Peyroux, Carbon Leaf and others.

Field's band include some of the region's finest musicians, featuring members of Mandy Moore, Sparklehorse, Agents of Good Roots, KD Lang, Carbonleaf and Modern Grove Syndicate. www.deanfields.com or facebook: https://www.facebook.com/MusicDeanFields?fref=ts

ABOUT LOCAL SPINS:
Keeping the spotlight on talented West Michigan bands: That's been a mission of mine while spending 13-plus years as a music critic and entertainment writer for the Grand Rapids Press. My "Local Spins" reviews and features -- as well as annual Local Spins of the Year awards -- have focused attention on a host of important and eclectic Grand Rapids area bands and artists, including Drew Nelson, Ralston Bowles, The Crane Wives, The Fuzzrites and more.

Now, at the Spins on Music website at www.localspins.com that continues with weekly features on different artists who appear on radio on my "Local Spins Live" segment at 10 a.m. Wednesdays on News Talk 1340 AM. And look for regular "Local Spins Live" concerts at area venues featuring some of these up-and-coming acts which deserve broader attention. I profile Local Spins artists at Spins on Music on Thursdays, with exclusive video performances on the site, and highlight my picks for weekly concert offerings in the Grand Rapids area. https://www.facebook.com/localspins/timeline

CHARITABLE PARTNER: We are pleased to work with Kids Food Basket, Muskegon. We feel the best way to have a healthy community is to support it and the kids who belong to it! Kids Food Basket helps kids right here in our community....to read more, please visit their website here:http://www.kidsfoodbasket.org/about-us/muskegon] during the evening we will have lunch sacks available for you to decorate and we will donate them back to Kids Food Basket. We will provide the lunch sacks and the crayons/markers you just supply your imagination!

DETAILS: There is plenty of seating, plenty of room to dance, and full service bar featuring Michigan beer and wine.. Join us in an intimate setting enjoying an evening of music.

FOOD: Fatty Lumpkins Sandwich Shack will be on hand serving up their famous sammies in their pop up restaurant. https://www.facebook.com/pages/Fatty-Lumpkins-Sandwich-Shack/165687220117308

ABOUT THE CONCERT SERIES:
The Concert series was created by the team behind Watermark Live and showcases musical acts touring the great state of Michigan. The evening is hosted by singer/songwriter Christopher Cordle. The Spring Concert series is designed to expose the artists who put their experiences of these peninsulas to music. Artists are not chosen based on genre, rather they are chosen because they exhibit rare potential. Each concert is unique and makes for a diverse series of shows.

ABOUT CHRISTOPHER CORDLE/SHOW HOST– Christopher Cordle - Born and raised in Muskegon, Christopher C. Cordle is a graphic artist, a fine artist, a musician and a producer as well as a luthier who trained under the tutelage of Robert Sayers. Chris is also an accomplished singer-songwriter with two WYCE Jammie nominated CD's. Chris has a degree in Graphic Design and specializes in illustration and branding. Chris is also responsible for the look and feel of our Watermark Live productions and creates the visuals as well as all of the branding for our shows. Chris has over 20 years of newspaper reproduction experience and was an original member in popular bands Yard Sale Underwear and original touring band Victoria Park in the early 1990s. Chris also worked under J.C. Howe with Muskegon Civic Theater to gain set painting experience. https://www.facebook.com/christopherccordle

ABOUT THE VENUE:
Watermark 920: Muskegon's newest and most innovative space for events is changing how we work and how we celebrate. This progressive urban address integrates productivity with creativity and is redefining event planning on the lakeshore. https://www.facebook.com/Watermark920]

ABOUT WATERMARK LIVE:
Watermark Live is the event and promotions arm of the Watermark Center headed up by a group of event professionals, artists and musicians from the Muskegon area; our group draws on a collaborative, not competitive attitude to bring you the most diverse events imaginable. Our events are intended to intrigue, excite, inform, and most importantly entertain. Whether you're attending one of our installments of our concert series, or dancing the night away at a Halloween extravaganza, or who knows what else we will come up with, you can bet you will have a great time.www.watermarkcenter.com/live