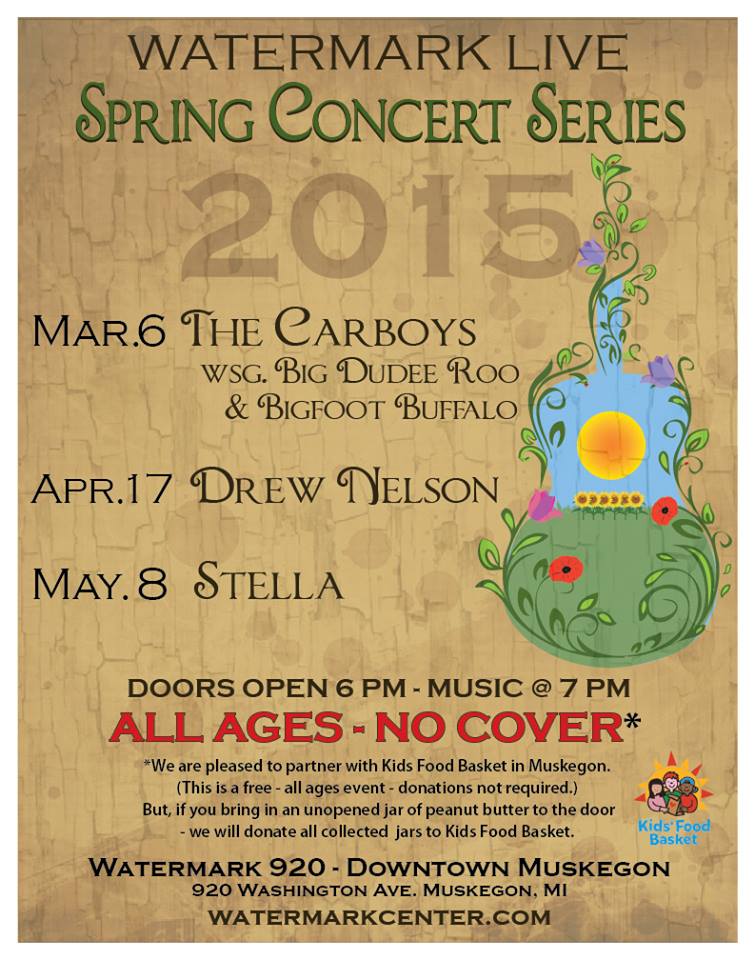 ---
Watermark Live is pleased to present, a spring concert series showcasing Michigan-based talent. This spring concert series is presented by Watermark Live with the concerts being held at Watermark 920.
STELLA - ALL AGES - TICKETS: NO COVER with a jar of peanut butter*
*we are pleased to partner with Kids Food Basket in Muskegon. (This is a free - all ages event - donations not required.) But, if you bring in a jar of peanut butter to the door - we will donate all collected jars to Kids Food Basket.
Forgot the peanut butter? A monetary donation - to Kids Food Basket Muskegon in the amount of your choosing works...but is not necessary to attend. help us help Kids Food Basket Muskegon!
Watermark 920 continue
s to offer space for events and a stage for musical acts to perform in an intimate setting. The concert series is designed to expose the artists who put their experiences to music and share it from the stage.



Artists are not chosen based on genre, rather they are chosen because they exhibit rare potential. Each concert is unique and makes for a diverse series of shows.

DATE:


May 8, 2015

WHAT:


Watermark Live Spring Concert Series



WHERE:


Watermark 920 - 920 Washington Ave, Muskegon

SCHEDULE:


Doors open at 6pm - come in and grab a coffee or a sandwich before the show! Or a drink from the bar - we will feature Michigan wine and beer for the evening, as well as a fully stocked bar.
Show starts at: 7:30pm
Featured act set: 8:30pm - 10pm

TICKETS: All ages - General admission:


STELLA - ALL AGES - TICKETS: NO COVER with a jar of peanut butter*

*we are pleased to partner with Kids Food Basket in Muskegon. (This is a free - all ages event - donations not required.) But, if you bring in a jar of peanut butter to the door - we will donate all collected jars to Kids Food Basket.



Forgot the peanut butter? A monetary donation - to Kids Food Basket Muskegon in the amount of your choosing works...but is not necessary to attend. help us help Kids Food Basket Muskegon!



PLEASE NOTE: we will NOT be opening any jars of peanut butter or serving peanut butter - just collecting unopened jars for KFB. If you have a nut allergy you must take any precautions necessary to protect yourself.





CHARITABLE PARTNER: We are pleased to work with Kids Food Basket, Muskegon. We feel the best way to have a healthy community is to support it and the kids who belong to it! Kids Food Basket helps kids right here in our community....to read more, please visit their website here:

http://

www.kidsfoodbasket.org/

about-us/muskegon during the evening we will have lunch sacks available for you to decorate and we will donate them back to Kids Food Basket. We will provide the lunch sacks and the crayons/markers you just supply your imagination!



DETAILS: There is plenty of seating, plenty of room to dance, and full service bar featuring Michigan beer and wine.. Join us in an intimate setting enjoying an evening of music. Drip Drop Drink will also be on site serving up hot coffee concoctions in their pop up coffee shop.


:

https://www.facebook.com/

dripdropdrink

FOOD: Fatty Lumpkins Sandwich Shack will be on hand serving up their famous sammies in their pop up restaurant. https://www.facebook.com/pages/Fatty-Lumpkins-Sandwich-Shack/165687220117308

ABOUT THE CONCERT SERIES:
The Spring Concert series was created by the team behind Watermark Live and showcases musical acts touring the great state of Michigan. The evening is hosted by singer/songwriter Christopher Cordle. The Spring Concert series is designed to expose the artists who put their experiences of these peninsulas to music. Artists are not chosen based on genre, rather they are chosen because they exhibit rare potential. Each concert is unique and makes for a diverse series of shows.

ABOUT THE CONCERT SERIES HOST – Christopher Cordle - Born and raised in Muskegon, Christopher C. Cordle is a graphic artist, a fine artist, a musician and a producer as well as a luthier who trained under the tutelage of Robert Sayers. Chris is also an accomplished singer-songwriter with two WYCE Jammie nominated CD's. Chris has a degree in Graphic Design and specializes in illustration and branding. Chris is also responsible for the look and feel of our Watermark Live productions and creates the visuals as well as all of the branding for our shows. Chris has over 20 years of newspaper reproduction experience and was an original member in popular bands Yard Sale Underwear and original touring band Victoria Park in the early 1990s. Chris also worked under J.C. Howe with Muskegon Civic Theater to gain set painting experience. https://www.facebook.com/christopherccordle

ABOUT STELLA:
Stella! is a three-piece, all-women, American roots band from southeast Michigan and has been referred to as a singer-songwriter super group with three-part vocal harmonies and three songwriter voices. Stella! was first conceived of by singer-songwriter Jo Serrapere after a conversation with American music critic, Bruce Springsteen biographer, and Creem Magazine co-founder Dave Marsh. Jo was inspired to put together a new group to showcase country-roots songwriting. With the release of their debut album, "Sorry, Stella," the girls were invited to join Michigan-based music collective Earthwork Music.

Eclectic writer Jo Serrapere credits songwriter Tom Waits, early blues, jazz, and old-time country as her strongest influences. She was the founding member of the old-time string band, Uncle Earl. Jo has had two appearances on National Public Radio's "A Prairie Home Companion" and three albums with her band, Jo Serrapere and the Willie Dunns, including her recent release, "Love Going South." "Love Going South" held the #1 position for two months on the Freeform American Roots Chart in fall of 2009 and was listed in their top 10 albums of 2009. Jo's new album, "Dollar Store Nation" will be released in early 2015.

Jo asked songwriter and multi-instrumentalist Jen Sygit to join Stella! as another songwriting voice in the group. Jen's voice adds deep blues tones to Stella! She plays acoustic and electric guitar, banjo, Dobro and Ukulele. Jen has three solo albums to her credit, including her new release, "So Long Pollyanna." Her previous album, "Leaving Marshall Street" was nominated for a 2007 Detroit Music Award and charted at #9 on the Free Form American Roots Chart. Jen also performs solo and with the Americana band Lincoln County Process.

In the Fall of 2010 Stella! acquired singer-songwriter and multi-instrumentalist Laura Ann Bates. University trained in vocal performance, piano and flute, Laura has now taken up the upright bass. By pursuing opera in the classroom by day, bluegrass and folk in the bars at night, hymns and choral pieces on Sunday morning, she has developed a very diverse musical pallet. In 2007 Laura released a CD with songwriter Brandon Foote called "Jubilee." She and Jo also perform with the Lansing Vaudeville troupe "The Lil' Darlins." http://thestellagirls.com/biography.php

ABOUT THE VENUE:
Watermark 920: Muskegon's newest and most innovative space for events is changing how we work and how we celebrate. This progressive urban address integrates productivity with creativity and is redefining event planning on the lakeshore. https://www.facebook.com/Watermark920

ABOUT WATERMARK LIVE:
Watermark Live is the event and promotions arm of the Watermark Center headed up by a group of event professionals, artists and musicians from the Muskegon area; our group draws on a collaborative, not competitive attitude to bring you the most diverse events imaginable. Our events are intended to intrigue, excite, inform, and most importantly entertain. Whether you're attending one of our installments of our concert series, or dancing the night away at a Halloween extravaganza, or who knows what else we will come up with, you can bet you will have a great time. www.watermarkcenter.com/live